Living
Flood Hits Bayelsa Divides Major Road
Government of Bayelsa State has showed concern that the effect of the flood would result in a humanitarian crisis due to climate change.
Commissioner for Environment of Bayelsa State and Chairman of the state's Task Force on Flood Mitigation and Management, Mr. Iselema Gbaranbiri, alarmed the concern on Saturday while updating on the committee's activities.
He said the flood in the state has totally displaced over 300 communities and village and more than 5000 people displaced
Related Articles:
Governor Diri on Friday stated his scheme for a post-flood management roundtable between affected states and the federal government intervention.
The Bayelsa governor said such natural disaster has become necessary due to the infrastructure damage and the amount of state resources deployed in tackling the flood menace.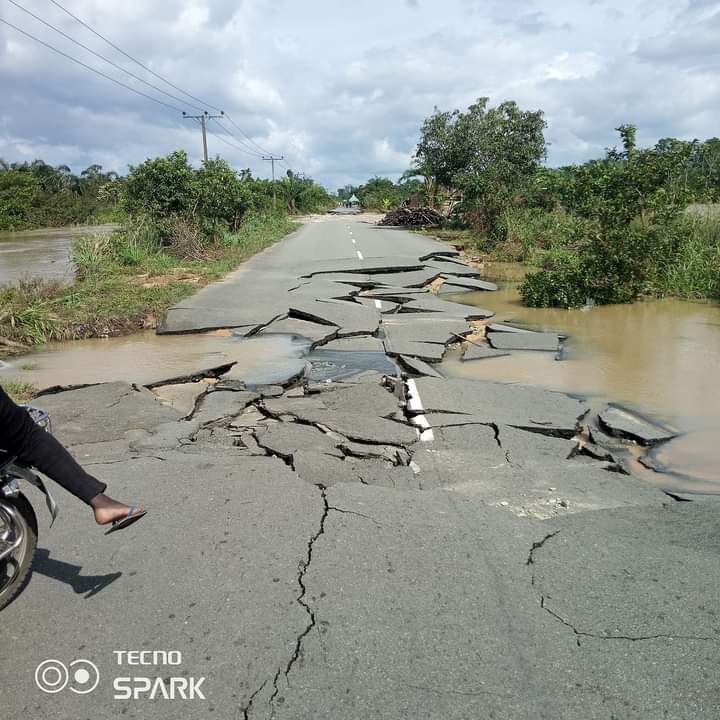 He spoke as he continued his on-the-spot assessment tour to Southern Ijaw Local Government Area and other Yenagoa Local Government Area communities.
This is the current situation of roads in "Bayelsa due to the floods,my people are suffering,the hardship has tripled,the government is silent over the cries and pains of the people it was sworn to cater for.
We need the attention of the media!!!" @Warempoorsammy said on twitter