Press Release
TOPWORLD Unveils His "Birthday Party and AWARD "Thus Far"
TOPWORLD Unveils His "Birthday Party and AWARD
BABATUNDE JEREMIAH BONFRYJOE, popularly known as Topworld, is having his 2023 birthday celebration in lagos to kick off celebrations worldwide to mark the event along with Award Presentation. This year's edition is Tagged: THUS FAR.
THUS FAR has emerged as a vibrant force, consistently delivering extraordinary ministration experiences that redefine the boundaries of ministry. Over the years, the event has gained a reputation for discovering fresh, innovative ministry and offering them a platform to captivate audiences.
In addition, Topworld has brought fun, playful experiences to fans, colleagues over the years and we will continue to do just that as we celebrate his birthday annually," said by his team,  "Our celebration is inspired by the magical birthday moment that spans generations and cultures. When you close your eyes, blow out the candles, and make a wish. We are so excited to celebrate our icon by encouraging fans, colleagues, neighbors, ministers, to embrace this birthday magic no matter their age and to never stop wishing – we'll even be granting some fan wishes through our special sweepstakes prizes!"
TOPWORLD Unveils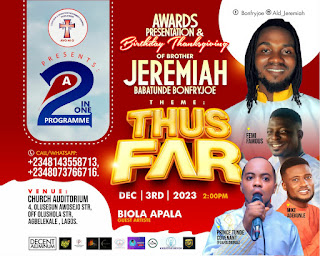 My birthday is coming up in a few weeks which we are celebrating with a Thanksgiving Service to appreciate God for His loving kindness and protection over the years.
Upon you I have leaned from before my birth; you are He who took me from my mother's womb. My praise will continually be to You. Birthdays are a celebration of another year of living, God is the one who gave us life, and we should not forget to glorify him for all that He has done and will do.
So, mark your calendars and get ready to celebrate with me this December — it's an event you won't want to miss.
Event Details:
Date: Sunday, 3rd Of December, 2023
Time: 2:00 p.m.
Venue: The Church Auditorium
4 Olusegun Awosejo str, off Olushola Str, Agbelekale Bus Stop, Lagos, Nigeria
Music by MIKE ADEKUNLE, FEMI FAMOUS, BIOLA APALA, & PRINCE TUNDE COVENANT. It is going to be an atmosphere of celebration, The audience can expect a diverse range of music, of various genre and high-energy performances that ignite the spirit.
The invitation is extended to music enthusiasts, industry insiders, and anyone who appreciates creativity and artistry.
Topworld forthcoming birthday Thanksgiving and Award Presentation of THUS FAR Event promises to be a musical journey like no other. It's a celebration of creativity, ministry, and the power of music to unite and inspire.
Big Appreciation goes to everyone God has used to support and sponsor this program such as AKINWUNMI FAMILY, SOBOWALE FAMILY, BCLEF GADGETS & COMMUNICATION, DE LEO ENT, EVEONFITZCOLLECTIONS, DAILYNEWSCOVER, nDM Clothing,, LION OF JUDAH CHAPEL, KAY MOUNTAIN GLOBAL SERVICE, ORI-OKE SEKUNMIDERIN, SEKUNMIDERIN YOUTHS
Thanks for your love. May God continue to bless you all.